Be sure to E'me if you have any questions.

Use this for my Pony List



Ponies & Equine Gifts from Betsy with the Horse Lover in Mind
Current Ponies
other than Holiday Ponies


Visit our Pony Home Page


---




~~~~~~~~~~
Click the pony picture to see it larger.or to ride over to that page.
2021 Painted Pony Ornaments.





E'me if you have any questions.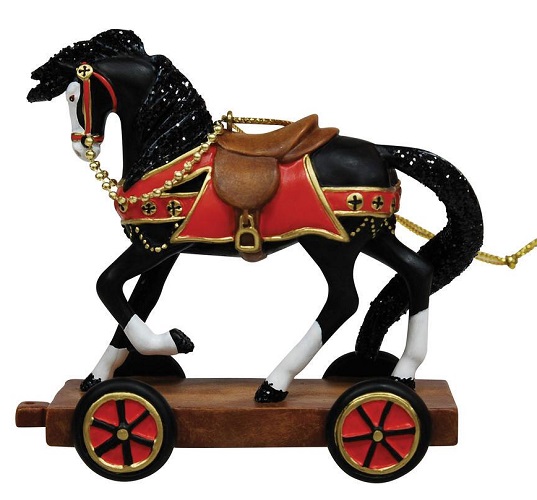 Christmas Past - 2022

Special Painted Ponies Dillard's Exclusive - 2022 Holiday
~~~~~~~~~~~~~~~~~~~~~~
Because I have many Collector's who are not near a Dillard's store, I order from them for you.
Happy Holly Days ~ 2022 Holiday
by Artist: Ann Yarbrough
The tradition of decking the halls with boughs of holly at Christmas is celebrated everywhere. It is said that before the arrival of Jesus, holly berries were always white. When holly was used to make the crown of thorns, for the crucifixion of Jesus, they turned red.

Approx. 7.4" H x 7.09" L x 2.5" H
Happy Holly Days Figurine ~ $ 140.00
(Shipping Included)

Happy Holly Days Ornament ~ $ 60.00
(Shipping Included)
SET OF HHD's Figurine & Ornament $180.00
($AVE $20.00)
(Priority Shipping Included)
---

The Gift ~ 2021 Holiday
by Artist: Laura Robinson



2021 Exclusively presented for Dillard's
"You are a young child, and excitedly you wake up on Christmas morning and rush downstairs. You find a note, under the tree, that says before you can open any presents, you must first go to the barn and do your chores. Slightly disappointed, you swing open the barn door only to hear a soft nicker.
Searching for the source, you curiously go from stall to stall until you come to the last one where you can't believe your eyes. There it is, a perfect Palomino filly, draped in a bow with a tag that has your name on it. It's the gift you have been dreaming about. Your Christmas wish come true. "
Laura also made Vintage Greetings & Jingle Bell Rock ponies.
Figurine ~ $ 140.00
(Shipping Included)

Ornament ~ $50.00
(Priority Shipping Included)

SET OF The Gift Figurine & Ornament $170.00
($AVE $20.00)
(Priority Shipping Included)
_______________________________________________
"I remember when my father, Gene Bauer, bought my oldest brother a palomino and after dark on Christmas
Eve, he brought the mare into our garage right under my brother's bedroom. Christmas morning after all
the presents were opened, he said I have one more for Mickey....
and we were speachless to see Taffy in our garage.
The neighbor kids all came over to see her and told their parents,
Santa brought a horse to the Bauer's house."
This pony reminded me of this wonderful Holiday memory, thanks Dad.
---
DeRosa Ceramic Holiday Art


Other very cute gift critters, click pic to ride on over.
---
SEE OUR OTHER CHRISTMAS ORNAMENTS & FIGURINES
---