---
Current Ponies
other than Holiday Ponies


Visit our Pony Home Page

---
The Gift ~ Dillard's 2021
(Click Pic)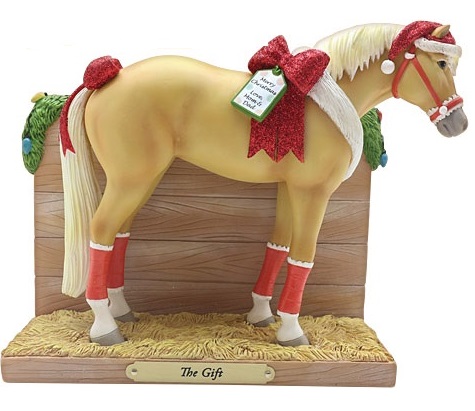 ~~~~~~~~~~
Click the pony picture to see it larger.
---
55th Release from 2022
---
Until USPS fees increase....





USA Shipping Priority -. First pony $18.00 plus $9.00 for each added pony. .

Orders leave here in 1 to 2 days.

INTERNATIONAL orders, E'me so I can weigh the box.

Larger orders are less per pony,
please ask for a quote. IF you are over charged
for shipping, I will refund the extra.
---
56th RELEASE ~ Next New Set
Due in March, 2023
---
Fun Gifts for Horse Lovers
---
DeRosa Critters for You!
Terrific Gifts for Animal Lovers
Trail of Painted Ponies

Christmas 2021 Figurines & Ornaments
CHRISTMAS 2021-------

$ 62.00 each
Holiday Tapestry, First Snowfall, Away in the Manger
(Snow Crystal), Christmas Delivery & Jingle Bell Rock.

Select the name of the pony you would like below.

$62.00 each
(USA Priority Shipping $18.00)

Most are low 1E/
All Ponies and Ornaments come in their original boxes, with tags and story cards..

Ornaments are always a hit on everyone's list.





Purchase 2 Ornaments - 50.00
(USA First Class shipping included)

Order now $ 140.00
Purchase the Set of 6 Ornaments

(USA Priority shipping included)
Yes I have The Gift ~ Dillard's Exclusive!
Click the picture to ride over to that page. (Sorry Gift can't be part of a 2 ornament order due to it's price and having
to get it from Dillards. I do have them in stock.)


Each is boxed in it's original box, brand new.
E'me if you live in another country and would like a quote or a PayPal invoice to help you purchase anything here.
I ship 2 ornaments minimum as many singles have been lost or damaged in the mail.
2021 COLLECTOR'S CHOICE ORNAMENTS

Forever Young, Thunderbird, Homage to Bear Paw, Fury & Wild Blue.

$112.00 Set of 5 Collector's Set
(shipping Priority Stateside included)
If you would like a couple of these, please use the button above for 2 ornaments.

SEE OUR | OTHER CHRISTMAS ORNAMENTS


E'me with any questions.