Equine Coffee Mugs and Canvas Art
M U G S
2012 C E R A M I C ~~~~Laurel Burch M U G S by Westland
$18.00 each or / Set of 2 ~ $34.00.
Shipping included

AQUATIC MARES ~~~~~~~~~~~~~ SQUARE HORSE
16 oz Novelty Mugs 6" X 4.5" for Horse Lovers
Comes in very nice decorated gift box for gift giving!
(not recommended for microwave or dishwasher)

| | |
| --- | --- |
| Select a Mug Here - $18.00 | |
If you would like more, just keep adding and I'll tweek the shipping so you aren't overcharged.
---
By Marcia Baldwin
NICE LAUREL BURCH HORSE, CAT & DOG MUGS
Click Pic to ride on over.
CANVASES AND WALL ART by Marcia
| | |
| --- | --- |
| Wind Grey Mare | Equus Nine |

and Gentle Spirits (for Arab lovers). This design also comes in a clock.

NICE GIFT FOR HORSE LOVERS!
$20.00each
($12.00. shipping)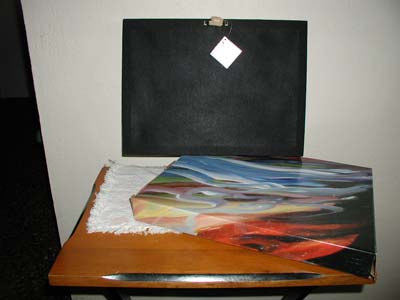 Here, I wanted to show you that each Canvas is backed with a black muslin and fitted with a hanging bracket, a tag telling about the item & comes in a beautiful, colorful box. All you need to do is add the bow.
IN THE ARTIST's WORDS:
"I am a professional full time artist living in Louisiana. I work mainly in oils and love to create new and expressive compositions exploring all of God's creations that we have been blessed with. I have two passions in life. ... my art and my horses. I continue to be in awe of these most magnificent creatures. The grace, the stamina, the power, the love, they show us every day how wonderful life can be.
I hope that I can portray some of the beauty found in nature through my paintings of horses, flowers, animals, landscapes, still lifes and abstracts. My art is my passion. I hope you find that you can share this passion with my lifes work. Capturing a moment in time, one painting at a time." - Enjoy, Marcia Baldwin
---
More unique gifts for horse lovers, Ride on Over
If you have any questions, please contact Betsy at: betsybauer1@comcast.net
Our Shopping card accepts your purchases with PayPal or Credit Card.
or Call me at 559-645-4111 PST to process your order.
Money Orders & Checks accepted also.
( if it's easier for you )
Ride over and check out the Trail of the Painted Ponies | | Horse of a Different Color