Gene Bauer, and granddaughter,
never too young to sit up on a Fjord.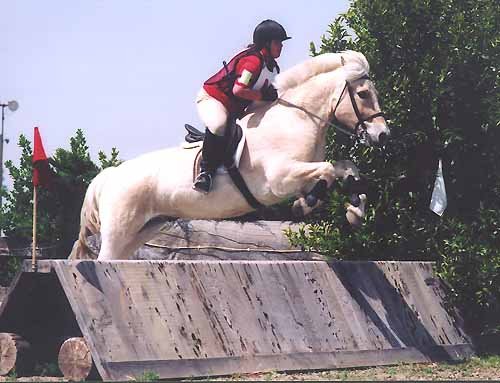 Abbey & Peppertree's Arne
Beginner Novice - 3 Day Eventing.
Photo by Ed Lawrence
Gene Bauer was my father and a man who signified the best of Norwegian Fjord Ponies. He was a major breeder, stressed the importance of pure breeding, sound training and produced the highest quality of the breed as possible. Unfortunately, he passed away May '96. There are many great links throughout the Internet to help you with your search for a quality Fjord and I encourage you all to check this great breed out.
My Dad raised more that 200 Fjords at Hestdalen Farms, in Round Lake, Illinois where he stood 50 Fjords in training, breeding and for pleasure.
As a young adult I was around my dad on visits home and was also taken by the Fjord's charm and level heading demeanor. And now I have retired from Fjord ownership as my daughter is older and no longer interested in riding. I was amazed that they are so easy to care for, as my father said years ago. Hay and hoof trimming and wormer is all you will need. Did you know they don't have to wear shoes & they only eat hay? Yep, low maintenance! Some breeders & owners have their Fjords shod if they work them hard. The breed has many qualities that make owning them a much easier and enjoyable sport: patience, strength, and a level headed approach to working with you. Our first from Hestdalen were Hakar and Ole stand 13.3 and 14.3 hands high. Yes, adults ride Fjords. They can be small for children or large for adults.
We also owned Peppertree's Arne who stood 15hh and my daughter enjoyed 3 day eventing and Arne LOVED that rolling across the open space jumping whatever she asked him to jump. **Never** refused a cross country jump Jr. Beg Novice level. He loved it. Plus his pace was perfect with that great "optimum speed".

When youngsters ride Fjords, though, you need to address the concern of the Fjord strength. Many youngsters get discouraged when the Fjords want to graze or go back to the herd, and all your riding ques are needed to direct those drafty necks and bodies where you want to go. So finding the right match with your child is important. Ask sellers to post videos on You Tube and you'll see previews as you make your choice. Then try to visit and get first hand experience with him or her.
Fjords are known for being tolerant, however they are animals and will try to get the upper hand if they can. Remember who's the Boss!
For People who wonder if you can ride a Fjord,

please watch this Video,

when you finish, please use your Back button to

ride back here and see more.

This was my father driving his four-in-hand team of Fjords.
Then see what ever happen to the Park Drag built in England. Click Pic and see more

Read More