Current Trail of Painted Ponies

2017
2018
EXCITING
15th Year Anniversary News!





~~~~~~~~~~
Click the pony picture to see it larger.


USA Shipping 1 & 2 ponies go USPS. First pony $12.00 plus $5.00 for each added pony.
* Gift from the Sea may call for an added invoice for being heavier.

Orders leave here in 2 days.

INTERNATIONAL orders, E'me so I can weigh the box.

Larger orders go UPS, ask for a quote.
Trail of Painted Ponies
Collector's Choice Ornament 2016
Christmas 2016 Figurines & Ornaments
COLLECTOR'S CHOICE ORNAMENTS ~ 2016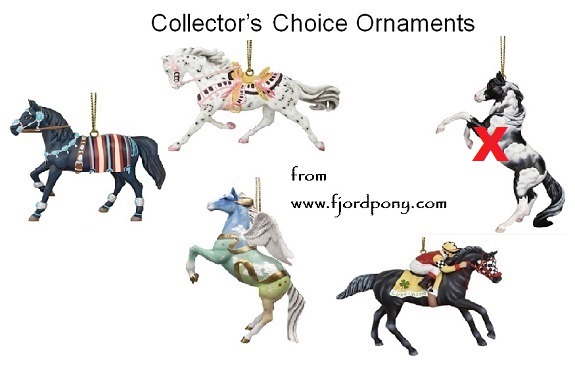 Squash Blossom, Tickled Pink, Cloud Hunter<Sold Out), Guardian Angel & Godspeed
Set of 2 = $40.00


4 of the 5 Collector's 2016 Ornaments = $76.00 - SALE!
(USA Priority shipping included)



(Please look for Stand by me at another place, I'm out)
Christmas 2017 Figurines and Ornaments
CHRISTMAS ~ 2016
CRIMSON JOY, O HOLY NIGHT, SNOW QUEEN <Sold out)
VINTAGE GREETINGS <Sold out), SONG OF CARDINAL & FAWN MEMORIES
See their GALLERY DETAILED PICTURES...

Numbers are under 1E/ 1000

Select the $45.00 Pony Here:
Song of Cardinal or O Holy Night
$50.00
Email me with any questions.

---

Song of Cardinal, O Holy Night,
Fawn Memories
3 ARE IN STOCK NOW!
~~~ > Sorry Snow Queen, Vinatage Greetings & Crimson Joy are Out <~~~

Set of 2 = $40.00
(USA First Class shipping included)

Set of 3 Holiday Ornaments = $57.00
(USA Priority shipping included)
E'me with any questions.